ALL INCLUSIVE PACKAGES IDEAL FOR 30 WEDDING GUESTS
MELBOURNE'S ORIGINAL MINI WEDDING PACKAGES
Looking for a more intimate wedding, or simply on a budget, then Avalon Castle's Mini Wedding package is what you have been looking for. Our ORIGINAL Melbourne Mini Wedding Package give you a range of options perfect for 30 or fewer guests.
CUSTOMISE YOUR MINI WEDDING
Mini Weddings are a shortened version of a full wedding day with all the standard trimmings and so much more. We even include the wedding cake. Designed as a smaller, more intimate-style of wedding celebration, Avalon Castle Mini Weddings have received rave reviews from past couples and the all-inclusive packages are especially popular with young families.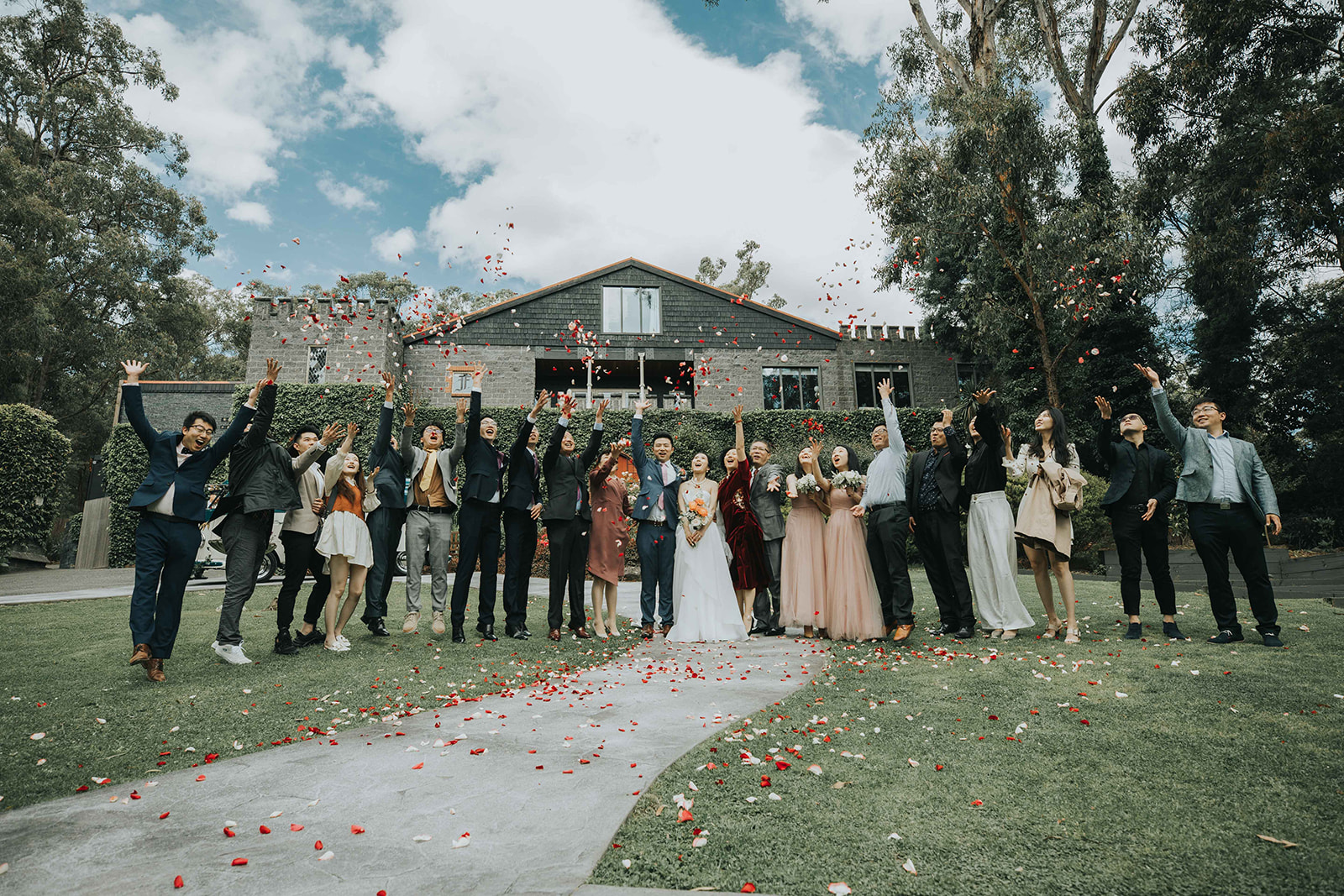 ---
*All final decisions are yours. Your dedicated "Wedding Planner" will guide you through the planning process.
Mini Weddings Melbourne – A weekday package
Choose a morning or an afternoon timeslot
Priced for 30 guests
Extend your package time if you wish to party a little longer
Add extra guests at a per head rate
All ceremony and table styling included
A dedicated wedding coordinator
3-Course dining package with your choice of 2 canapes, 2 entree and main options
A choice of beverages from our vast range
A semi naked wedding cake with over 12 flavours to choose from
Silk Floral Bouquet and buttonhole hire for the Bride/Groom
Discounted Vendors arranged for your approval
If it wasn't for their Mini Wedding packages our wedding would not have been as beautiful as it was.. so thank you

Avalon Castle is absolutely amazing and we highly recommend it! Aaron and Yvonne were awesome from start to finish, they went above and beyond to make sure our day was perfect for us. Thank you to Rhian and Denise for always being there to answer any question we had and putting our minds at ease with everything. Our family and friends were amazed by how beautiful the castle was and had such a great night there.

If it wasn't for the mini weddings we never would have been able to have a wedding as beautiful as what it was so thank you again to Avalon Castle for making our dream wedding possible!
MELBOURNE MINI WEDDING FAQs
1
Mini Weddings – what are they?
A short version of a full wedding day with inclusions such as a Wedding Coordinator, Cake, Silk Bouquet Hire and Full Styling Set Up of all areas.
2
Who manages our wedding plans?
You are introduced to your wedding planner at your first meeting and she is the dedicated coordinator throughout the entire process. You may receive other emails from the team from time to time.
3
May we invite more than 30?
Yes. You simply pay the additional per head rate for a *3-Course Meal
4
Do we get to choose our own menu?
Absolutely. Have you seen the menu options? There are so many to choose from.
5
Are all drinks included?
Our selection of wine, beer, and all standard beverages. Spirits are not included but they are available at base prices. Tea and coffee are readily available. You are also able to run a tab if you wish to.
6
Are children included in the price?
Yes. But if you are inviting 30 adult guests, the children are classed as "additional" and the half price, per head rate is applied.
7
Do we pay an additional fee for vendor meals? Photographers etc.
Yes. If they are working for three hours or more. The half price, per head rate is applied. (Paid professionals only). If they are included in your total of 30, you do not need to pay extra.
Yes. At $1000.00 per hour, you most certainly can purchase extra time for your function package.
9
Can we hire the upgrades from the main brochure?
Yes. You can utilise any of the additional upgrades including menu upgrades.
10
Can we have a Mini Wedding on a Friday, Saturday, or Sunday?
Yes. You can have a smaller number of guests on these days but not at the current rate that we offer for midweek events.
11
What is included in the De Luxe Package?
Celebrant, Photographer and Sparkling Wine for Guests on Arrival.
12
Can my guests book the accommodation?
Yes, our accommodation is available if you are booking the afternoon timeslot.
13
Will other venues offer the same services?
Possibly. We have been running Mini Weddings for several years and have the best suppliers involved at the best rates.
14
How will we know if the venue is styled to our liking?
All final decisions are yours. We also have a team of experienced wedding coordinators working for you on the day. Nothing is left to chance.
15
How much is the deposit and how do I get started?
$1,000 will secure the date for you. Just send us a confirmation and a wish list.
CALL MELBOURNE'S PREMIER WEDDING VENUE
Contact us & see why couples everywhere love Avalon Castle
We run tours by prior appointment but if you are in the area, give us a quick call. We do not run tours during functions but drop us a line and let us know when you would like to visit.
---
Currently, we are required to pre-record names and contact details of all visitors to the castle.
CALL US ON
(03) 5968 8392